The team
LOUIS BAUDRON
President
Louis Baudron was born 'in the purple' in the racing world having two grandfathers who are thoroughbred and trotting legends. Importantly, Roger Baudron and Jean-Pierre Dubois have both instilled values of daring, work and curiosity into him.
He set up as a trainer at a young age, and now trains both trotting and thoroughbred horses. Winner of 5 group 1's as a driver and 7 times as a trainer including the Prix du Cornulier in 2013, Louis Baudron is constantly looking to improve his techniques and knowledge thanks in part to his travels, where he brings back the best of both traditional and innovative ideas.
ARNAUD ANGÉLIAUME
General director
Arnaud Angeliaume, benefitting of his experience as a trainer-driver, and also as a Director of a leading bloodstock auction house for the last five years, brings his skills and knowledge of the horse racing industry and his 'savoir-faire' in business to Auctav.
For Arnaud, modernisation, optimisation and improving the auction market by taking it 100% online offers a way to bring together the best of both tradition and innovation.
As Managing Director, Arnaud develops Auctav's strategy between online flexibility and innovative practices in onsite sales, providing maximum customisation for each.
Sophie Teixeira
Bloodstock manager
Sophie Teixeira joins Auctav, being a bloodstock manager, assisting sellers and buyers in their search.
With a Master's degree in marketing and the MESB (Master's Equine Sciences and Business) from AgroDijon Institute, Sophie Teixeira mastered racing industry thanks to her numerous experiences with Tim Richardson at the Fresnay-le-Buffard stud farm, International Racing Bureau (IRB), Pascal Noue at Haras de la Hêtraie. In 2017, she created her company, IRS (International Racing Services), which enables her to collaborate with the bloodstock agent Richard Venn and the French Racing and Breeding Committee (FRBC). She has developed her knowledge of training and sales by spending several months in Australia. She was also an ambassador for the Godolphin Staff Awards in 2017.
Toby Jones
Bloodstock consultant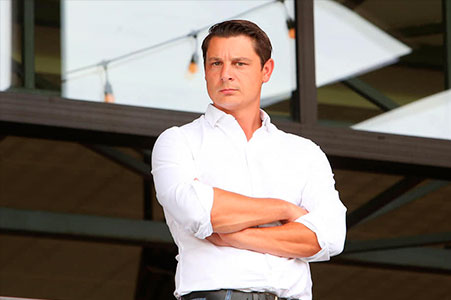 Toby Jones settled In France with all his family 20 years ago. His parents have a stud farm in South West of France. Toby furthered his knowledge with Julian Ince at Haras du Logis then with Jean-Marc Lucas at Haras du Berlais.
Toby Jones then started up as a bloodstock agent and found in breeze up sales and claiming races Group 1 horses.
He will focus on the selection of horses in training for Auctav.
JACOB PRITCHARD WEBB
Bloodstock consultant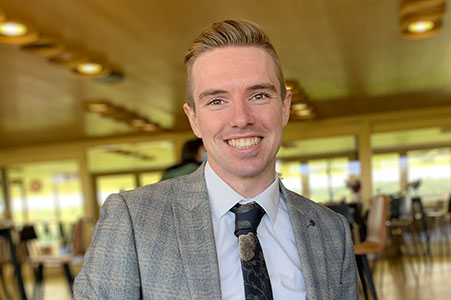 Jacob Pritchard Webb is the Auctav England and Ireland representative for the Auctav sales agency. Jockey and work rider in France, the British had seen his ambitions cut short by an accident which left him paraplegic. He perfectly illustrates the definition of the word resilience.
"I've teamed up with Auctav because they are a young and new company that so far have been successful with its concept of online auctions. My role at Auctav will be the UK and Ireland representative where I will look to promote the brand of Auctav and help develop relationships with potential buyers across those countries".
ANTHONY GRUEAU
Bloodstock agent for trotting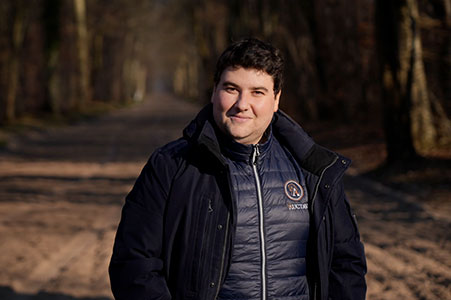 Anthony is a bloodstock agent for trotting. His values are in line with those of Auctav. His sharp eye, his in-depth analysis of races on all tracks and his attendance on racetracks make him a reference. He is also a owner and a trainer.
"I'm a jack-of-all-trades but that led me to have a really global vision of the trotting world. By knowing the technical adjustments and the very rules of the sport, a horse can evolve over several years. I am committed to sharing my experience, my expertise and the pleasure of victory. With Auctav, I will support sellers and buyers so that everyone is a winner".
Sarah Houssais
Administration and Communication Officer
At the age of 3, Sarah discovered equines during a pony baptism. For her parents, it is the beginning of (very) long hours following her and watching her indulge in this passion. After a law degree and a BTS communication, Sarah knows that horses must be part of her professional daily life.
She knows racehorses first through the reformed thoroughbreds who are her partners in CSO. She has even retrained a filly herself in the discipline of endurance.
The inner workings of racing are familiar to her through the years she spent on racetracks as a veterinary assistant on Parisian racetracks . Sarah now owns trotters. She is also at the head of the Moulin d'Aubry stables, boarding house for resting or convalescing racehorses. Her spouse also works in racing as the first boy in a trotting stable in Normandy.
Enthusiastic, precise and attentive, she will be able to respond to your requests to facilitate all your procedures within Auctav.
Jolyanne Herbeau
Customer service and registration service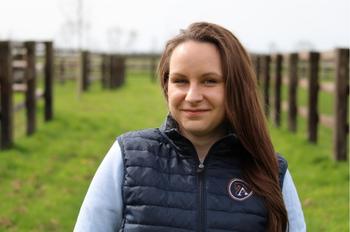 The apple didn't fall far from the tree. With a father who trains trotters and a brother who is a jockey, Jolyanne Herbeau confides that she "learned to harness a horse way before she even rode one". While initially studying law, she took advantage of her holidays to work as an exercise driver in several stables.
Breeder and owner of racehorses, she also learned horse care at the Brigitte Bardot Foundation.
She has a degree in Management of equine companies from the University of Alençon (Normandy), a course she followed in a work-study program at Auctav.
"I am often the first person customers talk to when they contact Auctav. I take care of the follow- up of the files, and thanks to my various experiences, I have a global approach of the sales as well on the veterinary as on the administrative aspects".
Caroline Moisan
-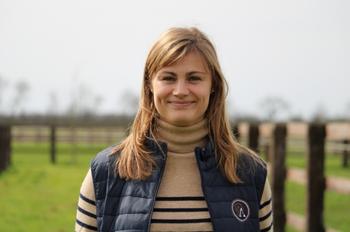 Born into a family of breeders and owners of trotters, Caroline Moisan also owns some horses and occasionally trains them with her husband.
Her knowledge of the racing industry is invaluable. "I worked for 11 years in a bank specializing in agricultural and equine services. When I arrived in Calvados, I joined an accounting firm in equine consulting. After that, I set up my own business to provide administratives services to equine structures. Thanks to this skill, I joined the Auctav team for accounting management.
Caroline is in charge of theaccounting management of registrations as well as sales as well as numerous administratives missions.